Commissioned Painting – A Glimpse of Paradise

Friday, September 28, 2012, 20:48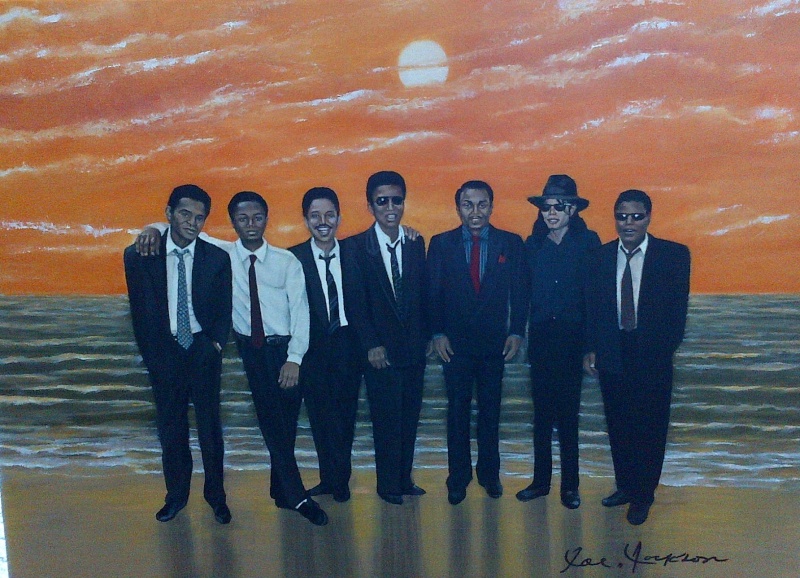 Mr. Jacksons description of Paradise, Expressed in Art
A Glimpse of Paradise by Joe Jackson
Mr. Jackson has journeyed back to his Roots to express his most precious moment in Life through art. His son Michael Jackson was a skilled painter, a craft his mother Katherine Jackson recently speculated must have been inherited from his father. Katherine Jackson went on to re-iterate on the Piers Morgan show, how wonderful Mr. Jackson used to paint in his younger days.
Upon careful reflection and much emotion, Mr. Jackson picked up the brushes once again and with the help of a fellow artist was able to complete the following painting dedicated to his sons. The picture expresses his happiest and greatest achievement in life. The pinnacle of all he could achieve: Together with my Sons we stood tall. The sun high above represents warmth, hope and boundless aspirations. The sea, the 7 seas of the world, carrying their message of song and dance to all corners of the earth across. The sand, always reminded us to stay grounded.
The Series "A Glimpse of Paradise" consists of a limited set of 7 originals representing Mr. Jackson and his six sons. Each of these paintings is signed by Mr. Jackson personally. He intends to have them displayed in Museums across the world. Only 7 will ever be made.
For more information about the series "A Glimpse of Paradise", E-mail info(at)jwjackson.com
————-
Katherine Jackson talks on Piers Morgan about both Michael and Joe's gift as painters
http://www.jwjackson.com/2012/09/28/commissioned-paintings/
--------------------------------------------------------
Peinture commandé - Un aperçu du paradis
Friday, Septembre 28, 2012, 20:48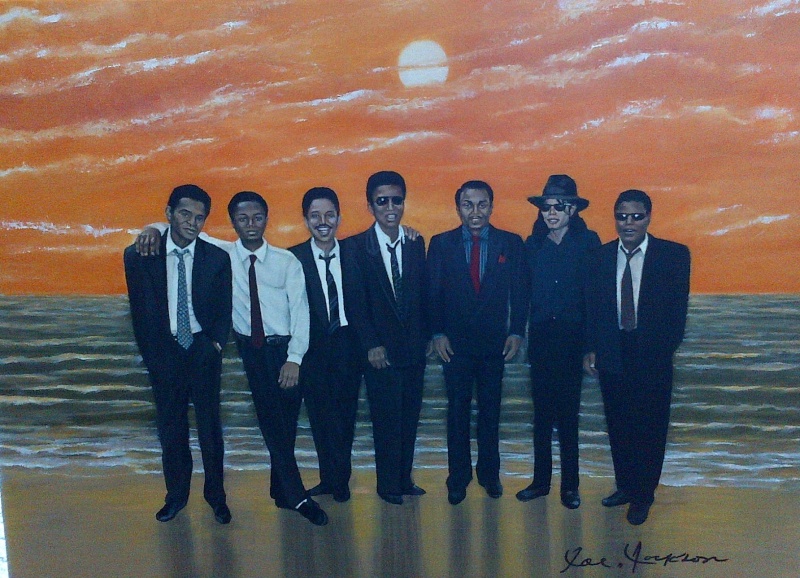 Mr. Jacksons description of Paradise, Expressed in Art
Un aperçu du paradis par Joe Jackson
M. Jackson a voyagé de nouveau à ses racines pour exprimer son moment le plus précieux dans la vie à travers l'art. Son fils Michael Jackson était un peintre habile, un métier de sa mère Katherine Jackson a récemment émis l'hypothèse doit avoir été héritée de son père. Katherine Jackson a continué à réitérer l'émission Piers Morgan, c'est merveilleux M. Jackson utilisée pour peindre dans sa jeunesse.
Après mûre réflexion et beaucoup d'émotion, M. Jackson a ramassé les pinceaux une fois de plus et avec l'aide d'un collègue artiste a réussi à compléter le tableau ci-dessous consacré à ses fils. L'image exprime son accomplissement le plus heureux et le plus grand dans la vie. Le summum de tout ce qu'il pouvait atteindre: Avec mes fils nous était grand. Le soleil représente la haute au-dessus de la chaleur, de l'espoir et les aspirations illimitées. La mer, les 7 mers du monde, transportant leur message de la chanson et de la danse à tous les coins de la terre à travers. Le sable, toujours nous rappeler de rester à la terre.
La série «A Glimpse of Paradise" est constitué d'un ensemble limité de 7 originaux représentant M. Jackson et ses six fils. Chacun de ces tableaux est signée par M. Jackson personnellement. Il a l'intention de les afficher dans les musées à travers le monde. Seulement 7 ne sera jamais fait.
Pour plus d'informations sur la série "Un aperçu du paradis", E-mail: info (at) jwjackson.com
————-
Katherine Jackson pourparlers sur Piers Morgan sur Michael et Joe comme cadeau peintres

jiminy

Bloody




Messages

: 3896


Age

: 47



Eh ben! Joe, artiste peintre!

Remarquez, pourquoi pas? Mais c'est assez spécial d'apprendre çà sur le tard comme çà. Avec l'aide d'un collègue artiste, on ne sait pas quelle est la part d'aide!
Je n'ai pas eu le temps d'écouter toute la vidéo, ce sera pour plus tard. Surtout qu'il faut se concentrer pour l'anglais!
Merci Jiminy!

Rosaimée

Modérateur




Messages

: 8408


Age

: 62


Localisation

: Québec



Mais de rien , voyons .
Joe comme peintre , oui , pourquoi pas , comme tu le dis .
C'est étonnant que le goût de l'art ai été à Mike par Diana Ross . Ou alors , c'est venu sur le tard , et c'est le fils qui a donné goût au père .
Avais-tu remarqué que l'on retrouvait de nouveaux beaucoup de 7 dans cet article ?

jiminy

Bloody




Messages

: 3896


Age

: 47




---
Permission de ce forum:
Vous
ne pouvez pas
répondre aux sujets dans ce forum